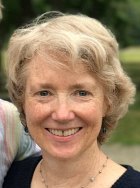 Mary Tolles is our Queen of Numbers. She joined the Belfast Flying Shoes board of directors in July 2017. In just a short time, she brought our non profit organization to a new level. Among other things, Mary professionalized the role of Treasurer, streamlined our bookkeeping procedures (which were admittedly idiosyncratic at that point), improved our financial procedures, offered insight into accounting reports and rules, and helped all of us better understand and fulfill our complex responsibilities as board members of a 501(c)(3) non-profit.
This month, Mary resigned from serving as a BFS board member; however, we're delighted that she is still contributing her skills and perspective to the organization as the BFS bookkeeper. We deeply appreciate her wisdom and guidance in fiduciary matters (and more!)
When you see Mary, thank her for all she does to support our dance community, including her labors as a BFS volunteer.