Join us for an evening of contra dancing at American Legion Post #43, 143 Church Street in Belfast. The festivities begin at 6:30 pm, with a Community Dance called by Chrissy Fowler and with music by the All Comers Band. All musicians are welcome to sit in. Fun and simple dances will be taught, giving beginners the opportunity to learn new skills and offering experienced dancers a chance to brush up on their steps. The Contra Dance begins at 8:00 pm.

This month's caller is Belfast's own Chrissy Fowler. A founder and leading light of the Belfast Flying Shoes dance series, Chrissy called her first dance in 1999. Since then, she has cheerfully guided people through the steps of contra dances at festivals, schools, dance series, and special events throughout New England. She is especially gifted at introducing the joys of traditional dance to the uninitiated in educational, community and professional settings. Chrissy is committed to building community and sees traditional dancing as a vital means to connect people of all ages and levels of experience.
Sharing the Flying Shoes stage with Chrissy will be:
The Gawler Family Band
The Gawler Family Band is Ellen and John Gawler—pillars of Maine's traditional music and dance community—their multitalented daughters, Molly, Edith, and Elsie, and the fiddling, farming folklorist Bennett Konesni. The Gawlers have charmed audiences across the Northeast with their sparkling musicianship and irresistible good cheer. Drawing on an extensive repertoire of Down East, Scots-Irish, Swedish, and French Canadian tunes, this fun-loving, foot-stomping string band will put wings on your feet and a smile on your face.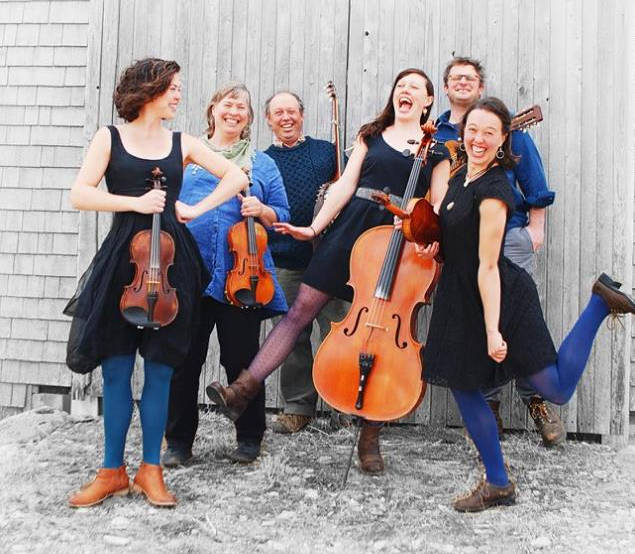 John Gawler—banjo, guitar, harmonica
Ellen Gawler—fiddle
Molly Gawler—fiddle
Edith Gawler—fiddle, banjo
Elsie Gawler—cello
Bennett Konesni—guitar, banjo
Sound provided by Eric Weest Johnson
Admission to the Community Dance is $2 for adults and $1 for children. Admission to the Contradance is $10 for adults, $8 for ages 13 to 20 and adult All-Comers, and $5 for children. Bring along a window fan and get $1 off. For more information: call 338-0979, email us at [email protected]. Find us on Facebook too!